2006-12 OEM JDM HID ( Factory Xenon) Headlights from Japan
I think this subject deserves it's own thread plus I get pm's all the time asking for links, so below I have pasted the text from my posts from
another thread
:
Ok, below are the links for the headlights and ballast's, The headlights for the 2006-08 are Ichikoh 42-38, the ones for 09-12 are Ichikoh 42-47 this applies to North & South American rav4's (European Rav4's up to 2009 models). They are from the same seller I used, also make sure you use the buying service website to do a proper translation for you, they will also make the purchase for you as well as arrange for the shipping. You can also search the following keywords on buyee.jp :
rav4 ヘッドライト
(headlight),
rav4 42-38
,
rav4 42-47
,
aca31 ヘッドライト
(headlight),
aca36 ヘッドライト
Here are the 2 different types:
2006-08 (Ichikoh 42-38 )
2009-12 (Ichikoh 42-47)
As for the ballast's you will need to buy a square looking one that has a little slit in one corner, some of the ballasts even include the gaskets and screws, trust me you should buy the ballast's from Japan because there are a lot of chinese fakes online (ebay, amazon).
I also wanted to mention that when I received my headlights I looked inside at the cutoff plate and it was written RHD HID plus I saw that it was -------\________ which is RHD cutoff, then I saw that there are only 4 screws that were holding the reflector bowl, once I removed the reflector bowl I flipped the cutoff plate 180 and it fit perfect and to my surprise it was actually written LHD HID, so I guess Toyota was in doing that.
All other parts required can be found
here
and
here
Parts required:
Headlights
x2 ****Make sure the headlights come with the round headlamp covers for the back!!!!!! If they are shown in the photo then they will almost certainly be included, if not go
here
and you can buy some.
Ballast's
x2 Part #:
85967-06020
(
New ones
cost around $175 each)
Gasket
x2 Part #:
90075-68007
Screw
x8 Part #:
90075-02056
Socket, Clearance Lamp
x2 Part #:
81138-52570
Clearance socket connector
x2 Part #:
90080-98298
Socket, Front Turn Signal Lamp
x2 Part #:
81515-42050
Turn Socket Connector
x2 Part #:
90980-11019
Terminal Repair Wire
x8 Part #:
82998-12440
Triangular Female Connector
x2 Big thanks to
avs
for part #:
90980-11016

OEM Toshiba HID bulbs
x2 or
Philips D4S (42402)

Buyee.jp
Buying/shipping service (Register here to buy from Yahoo Japan)
Optional:
Headlamp Cover
Part number
81135-52480
(you will need this if
only
if you receive a headlight with a missing bulb cover for the HID bulb opening)
Thanks to Zuppy for confirming correct part number and fitment.
Optional: If you want to make use of the headlamp leveling motors then you will need the following items:
Leveling Switch
Part #:
84152-52080
Switch Connector
Part #:
90980-11950
Leveling Switch Wires
x4 Part #:
82998-12690

Headlamp Leveling Motor Connector
x2 Part #:
90080-98028

BIG Thanks to
Trusa
for the part numbers, much appreciated!
Use
kennyc's
guide to make your wiring for the turn signal and clearance lights.
Thanks to kennyc for the wiring guide.
Optional: If you don't want to mess up your factory pigtail (the one mentioned in kennyc's wiring guide) for the city & clearance lights, then you can buy a connector and the terminal wires and then you won't need to mess with your USDM factory headlights. Below are the links and part numbers:
City/Clearance Harness Connector
x2 Part #:
90980-10941
Terminal Repair Wire
x8 Part #:
82998-12430
I paid 7000jpy ($70) for both ballast's and 8400jpy ($84) for each headlight.
Here are photos (from camera phone) of my output and cutoff: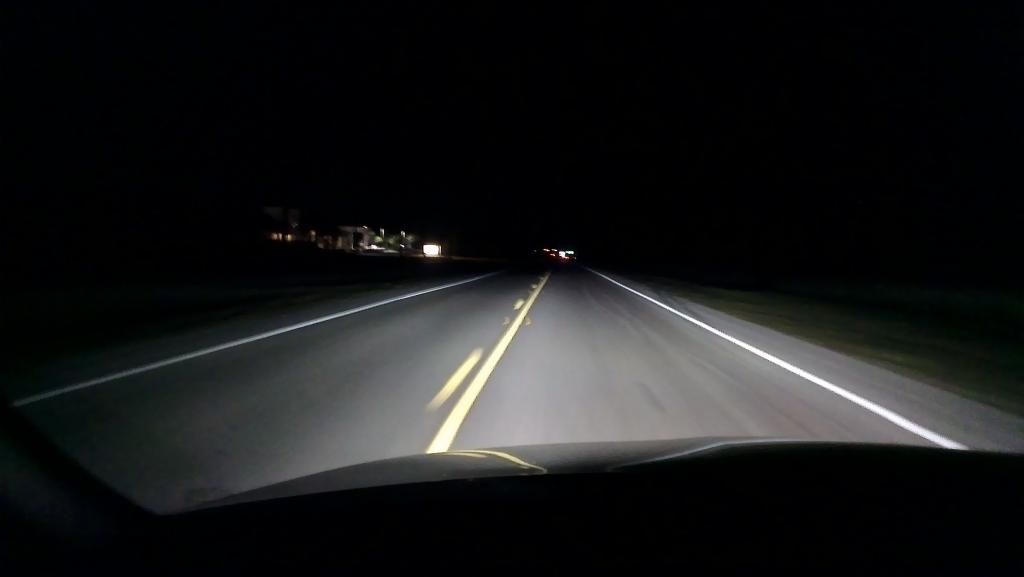 How to adjust HID cutoff:
http://www.theretrofitsource.com/diy-installation-guides/aiming-guide.html
http://www.toyota-4runner.org/3rd-gen-t4rs/130317-**how-properly-aim-projector-headlights**.html
Optional:
Leveling Motors "How to guide"
This is very useful and IMO a necessary option if you tow frequently or you have a Third row equipped 4.3. Thank you
SirTampers