Discussion Starter
•
#1
•
Due to limits of 25 images per post, I'm going to do a multiple stage posting here....
Hi everyone,
We bought our RAV4 in May 2012 for a trip from California to Colorado and back, and have since used it as a road trip vehicle for camping, etc. We also just took it up to Seattle and back for Thanksgiving. It's been fantastic, with good comfort, reliability. V6 power when we need it (276HP – wahoo!) and pretty good fuel economy (average about 25 MPG). We LOVE this thing – but, with all our travels, and even in California, cold mornings and evenings make us miss heated seats in our other cars.
I first heard of this modification through the RAV4World newsletter,

linking to this thread

. After reading it and some other threads on the mod, I decided to take the plunge and bought the same set of heated seats (2), switches and relays –

on eBay HERE

. It was $90 shipped with no sales tax. I spent about $10 in wire taps from Radio Shack, so the whole job was under $100, plus a weekend of my time.
Tools/Parts needed:
-

(1) RAV4
-

(1) set of heated seats/switches/wiring harness (see link above)
-

10mm wrench – to adjust the parking brake – optional, but easy to do while you're in there
-

13 mm wrench (battery terminal – disconnect the negative cable before starting)
-

12 mm socket – to remove bolt for ground connection
-

(1) Smaller and (1) Larger phillips screwdriver (smaller for seat trim removal, larger for cupholder removal
-

14mm socket/ratchet – for seat anchor removal
-

Needle nose pliers or hog ring pliers (to remove hog rings on upholstery)
-

LOTS of zip ties (to replace hog rings and do some wire management)
-

Scissors (to cut zip ties and cut the heating elements to size
-

Sharpie pen (for marking out areas to cut on heating elements)
-

Wire strippers and wire connectors (I got the

T tap ones from Radio Shack

, which allow you to tap into the wire using a spade connector)
-

1 Large

ring terminal

to ground the wiring harness to an existing bolt under the shifter
-

Utility knife
Time: This took me all weekend. The first seat took me 6 hours, the second 1.5 hours – you get better at it the second time around. I spent a considerable amount of time (with help from my neighbor) discerning exactly WHICH wires to tap for the 4 I needed for each seat's harness.
Step 1:
Disconnect negative batter terminal using 13mm socket. Reason for this is that there are airbag sensors on the seats, and if you disconnect them while the battery/ECU is on, you'll throw a code, which will require the dealer to reset it for you (and no one wants to explain they were installing aftermarket heated seats while still in warranty, let alone pay for a reset).
Step 2:
Remove the seats (I started with passenger side so the car would still be drivable if I tot
ally screwed up). Remove the plastic trim covering the 14mm bolts on the backside of the seat – they just come off with a firm pull – they slide toward the rear. Slide the seat forward or backward to gain access to the other bolts – there are 4 – 2 front and 2 rear. Tilt the seat back or forward once bolts are removed, to expose the wiring (airbag sensor, etc) – carefully undo the electrical connections and remove the seat. Taking headrests off first is recommended.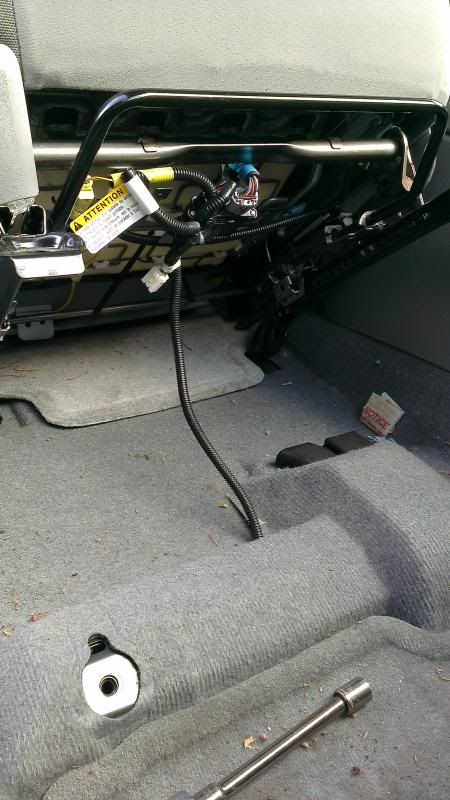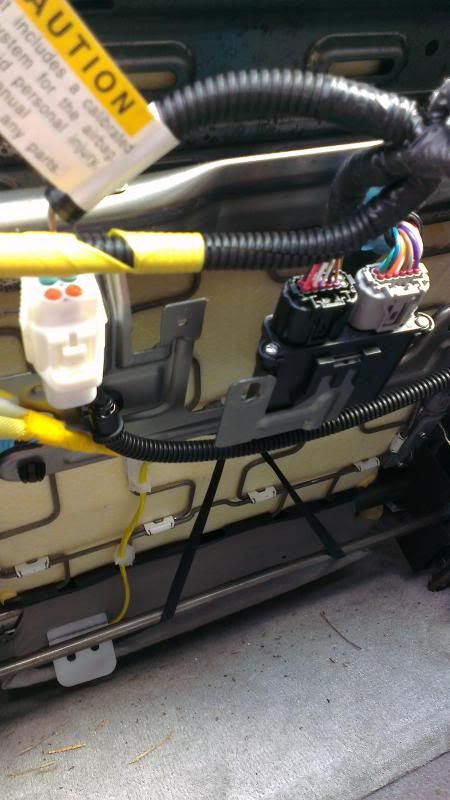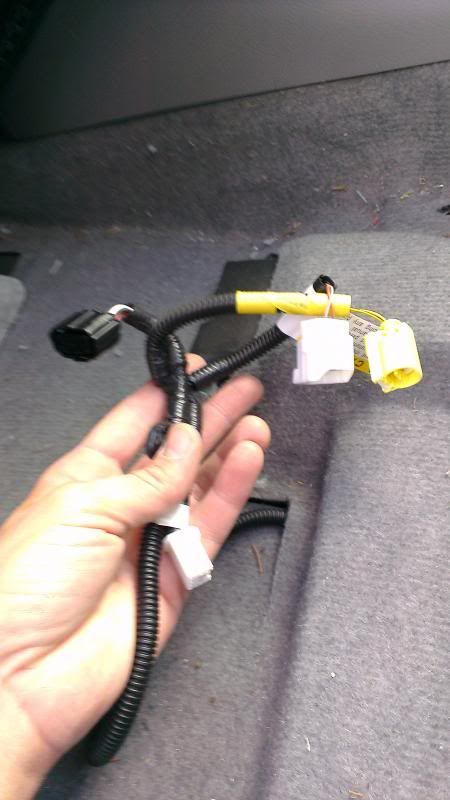 Step 3:
OK, once the seats are removed, you can dig into the guts of the center console to see where you'll be tapping into and installing the switches.
First, remove the kick panel trim by getting your hand under the rear part and tugging outward (it's anchored in the front, toward the firewall, as you can see in the photos – it will just pop free.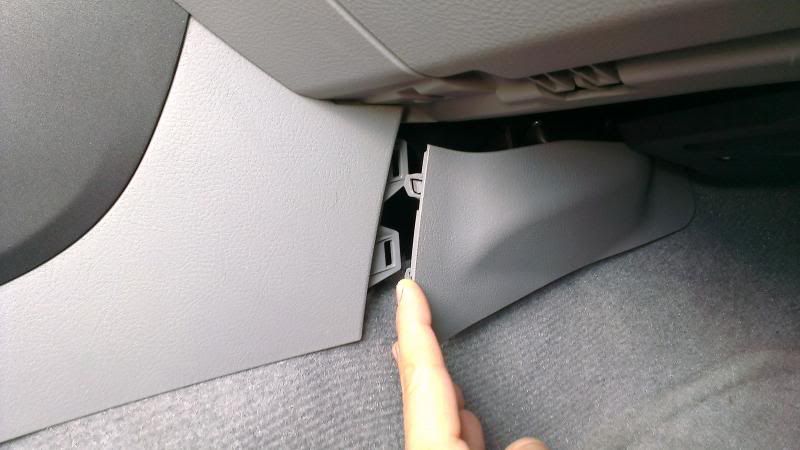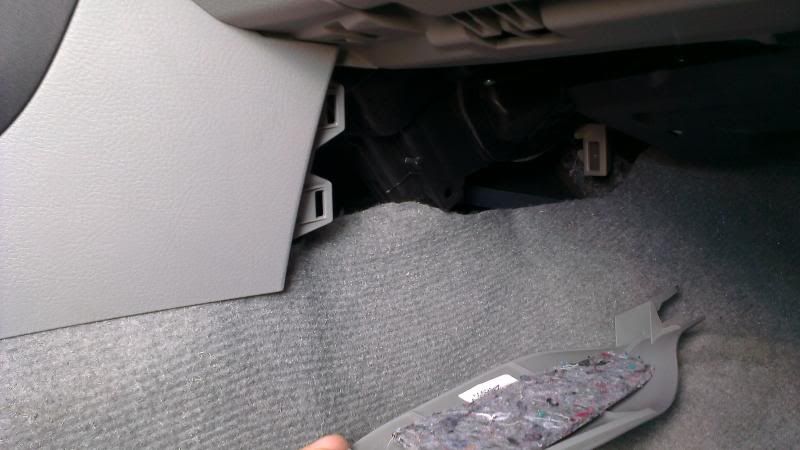 Then, pull the shifter trim out – pull firmly/gently up and toward the back of the vehicle.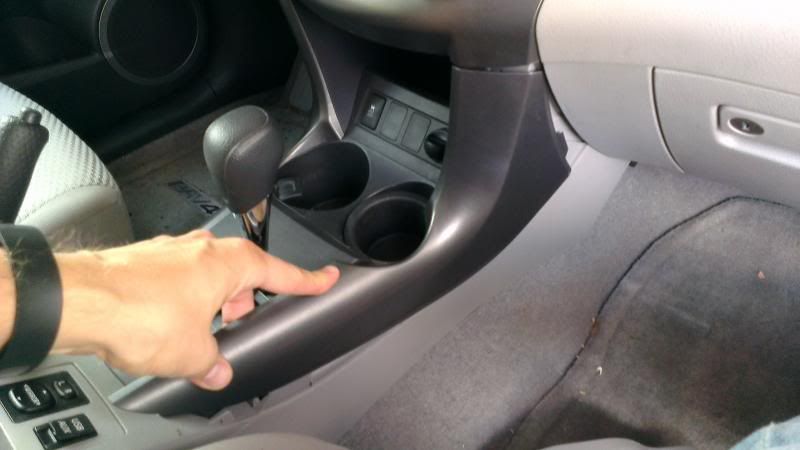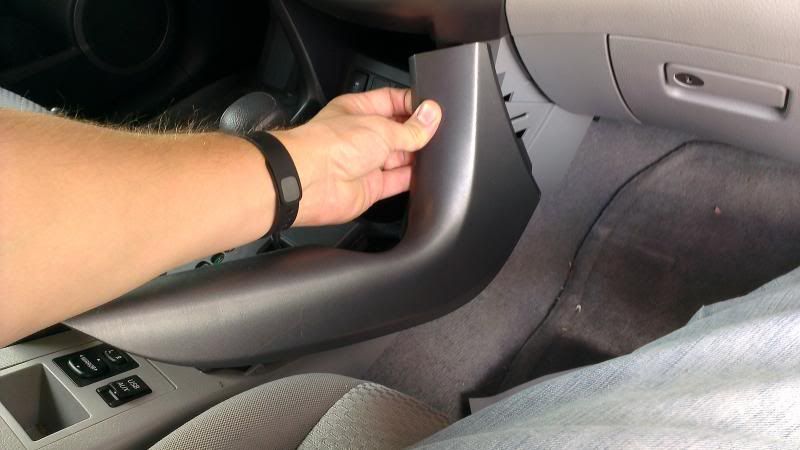 Once you've taken those trim pieces off on BOTH SIDES of the shifter console, you can remove the shifter trim. Make sure to unscrew the shifter knob first – it just unscrews counter clockwise. Pull up from both sides to snap loose the shifter trim – careful – it has wires underneath you don't want to pull too hard.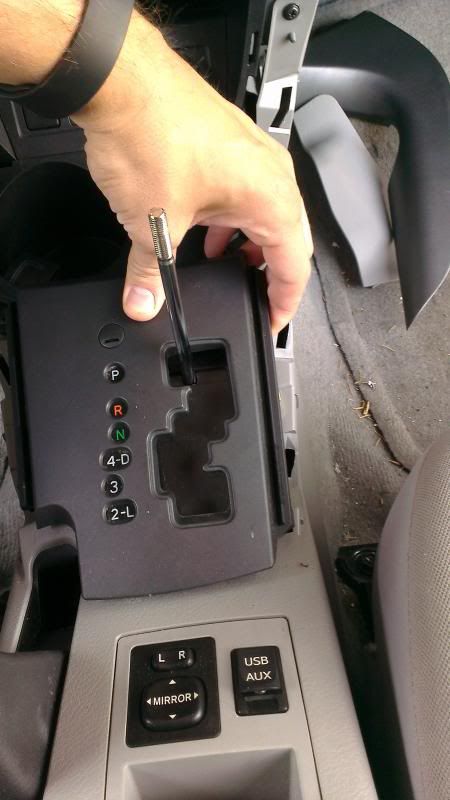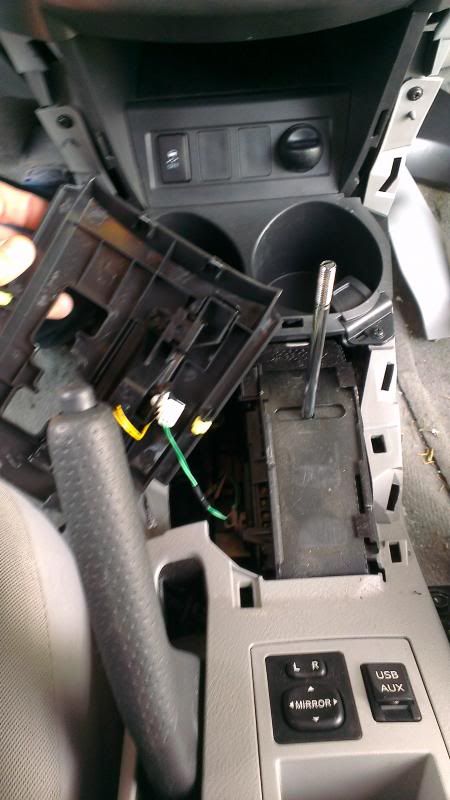 Unplug the wire.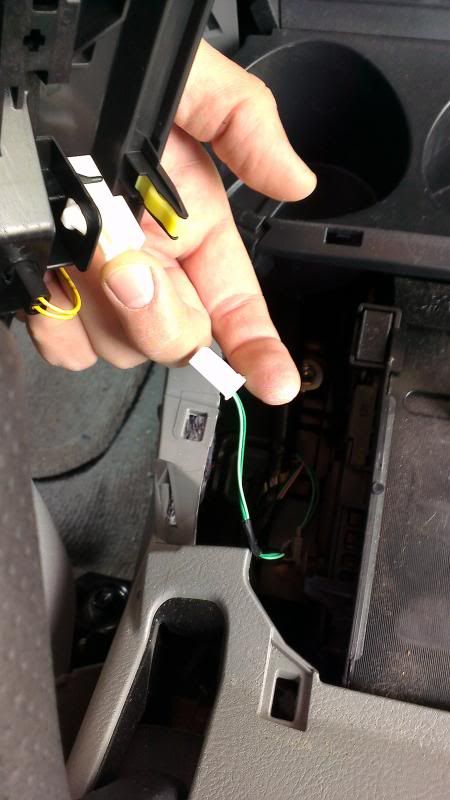 Unscrew the 2 phillips screws holding the cupholders in place, and lift it out.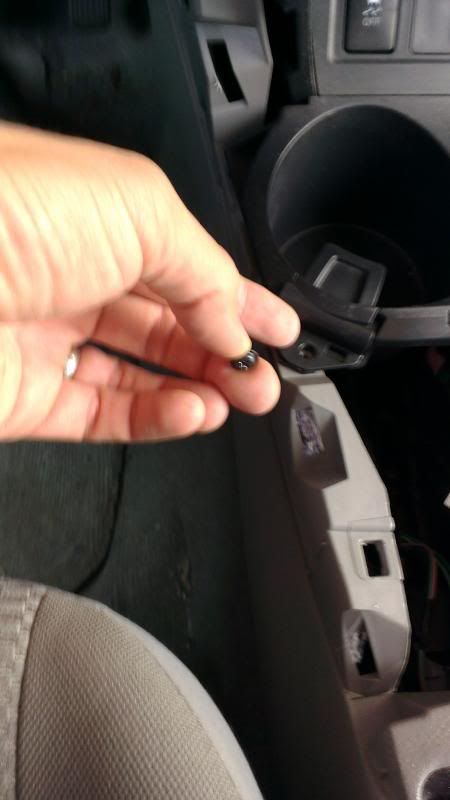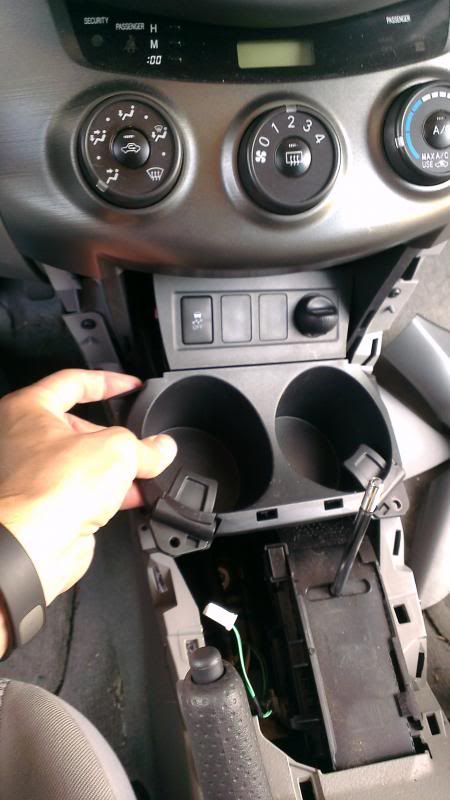 The panel with the traction control button now can lift out – you can knock out the 2 dummy pieces where your heated seat controls now will go.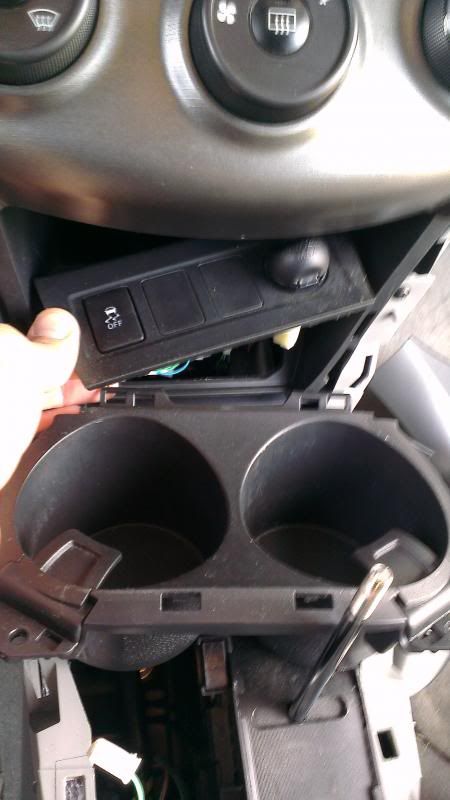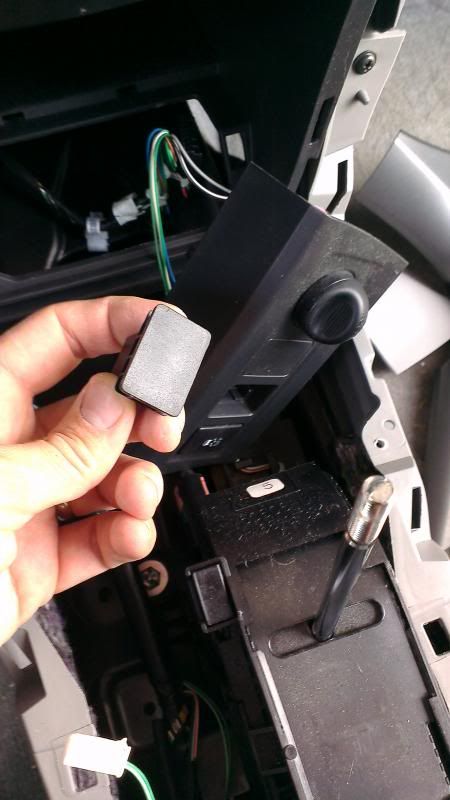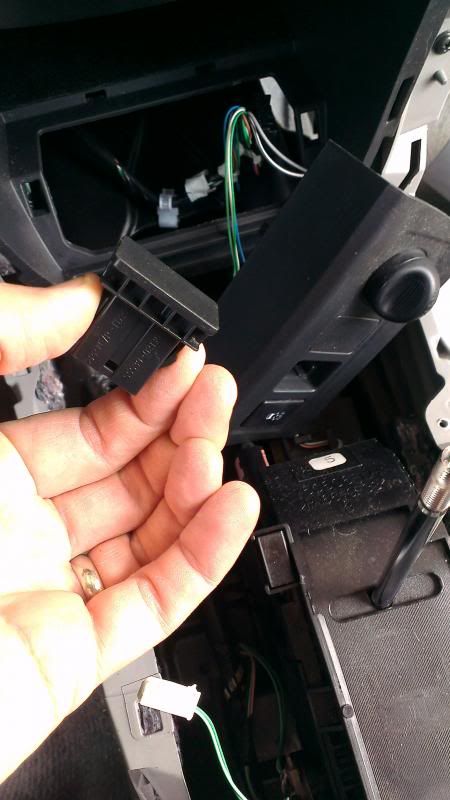 Behind this panel you can see the wiring for the traction control, cigarette lighter, and a bundle that I think was for the OEM heated seats – we'll use these wires later

J