ABS, SLIP, BRAKE and No Brake Lights / No Cruise
SOLUTION: BAD STOP LIGHT CONTROL RELAY ASSEMBLY BEHIND GLOVE BOX (Connection A43 on 2009+ Models)
See Here--->
http://www.rav4world.com/forums/98-4-3-interior/131914-abs-vsc-brake-no-brake-lights-no-cruise-2.html#post1315210
See Here--->
http://www.rav4world.com/forums/98-4-3-interior/131914-abs-vsc-brake-no-brake-lights-no-cruise-3.html#post1315274
Buy Here--->
http://chkkty.en.alibaba.com/product/1360301797-218440067/Automotive_parts_12V_30A_fan_relay_895A1_46020_for_toyota.html
My wife's 2010 V6 AWD Rav4 is throwing the following warning lights: ABS, SLIP, and BRAKE
In addition to these lights the brake lights are not working nor is the cruise control working.
I have pulled the brake pedal switch and checked for continuity and it passed per the below: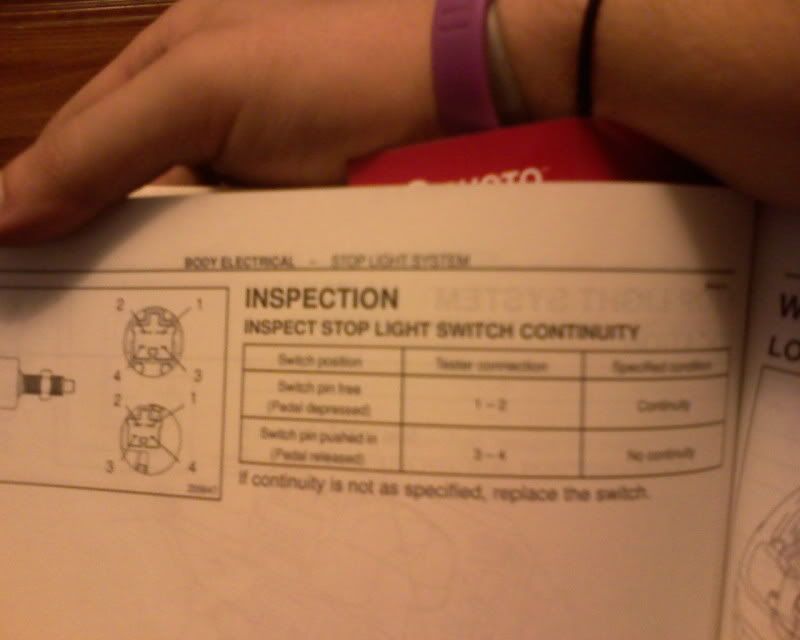 Due to the fact the the brake lights are not working I am unable to reset the ABS codes by compressing the brake pedal 8 times within 5 secs while the OBD diagnostic port pins 4 and 13 are jumped to each other.
I am unsure at this point if the trouble codes are being thrown because of a wheel speed sensor, brake light circuit issue, if one is a symptom of the other, or a combo of the two.
Thoughts?