Discussion Starter
·
#1
·
2010 Base AWD RAV4
This takes some time to accomplish, but totally worth doing.
Tools:
Plastic Panel Removal Tools
Wire crimper/stripper
Parts:
Camera: $10-$100 (depends on brand and quality)
Wire connectors
Wire
1) Removal of the panels on the rear swing door. Start with the top panel, then the two sides, finally the large one on the bottom. The panel clips are indicated by the red circles.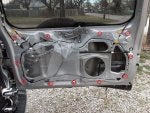 2) You will need to unscrew the license plate then unclip the small plastic fasteners from inside the rear door. This will allow you access to the bottom panel. Install the camera where you would like on this panel.
I used the factory space by drilling out a small section to feed the wire through. Then I predrilled notches for the mounting screws.
3) Feed the wires through the back swing door. You must feed it through the rubber grommets. I finished feeding it by going under the panels along the passenger side of the vehicle.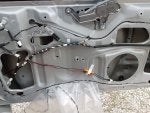 I will finish writing this over the weekend. PM for more details.