I put an Android tablet over my stock head unit.
Snaps on via magnets and connects via bluetooth.
I'm now a true believer, this is the way.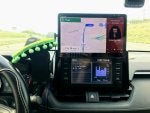 I decided to give this a try after having issues with an aftermarket head unit, but ultimately being spoiled by the Android interface of it. The tablet has been working just as well, and honestly it has some perks that make it much more worth it for me.
Parts:
Tablet - I used Samsung Galaxy Tab S6 Lite
Magnet mount -
https://www.amazon.com/dp/B071W3661J?psc=1&ref=ppx_yo2_dt_b_product_details
3M tape (or equivalent)
You have to work around the ridges on the OEM HU. I bought a bunch of different magnet mounts but this one fit best. Then added another layer of 3M tape to fill the gap on the upper ledge (shown in red):
Metal plates attach to the back of the tablet, I ended up adding more coverage than the 2 shown so I can orient it any way. Tablet sits perfectly over the OEM HU buttons. The bottom rests on the volume tuner knobs and I thought there may be issues with it pushing down the power button, but nope. You really have to put some force on the screen for it to push the knobs.
Connects to the RAV's audio via bluetooth and it automatically reconnects after engine cycles. Steering wheel music controls still work through bluetooth. Automatically tethers to my iphone via bluetooth for data, and if I need more bandwidth I can tether it to my phone's wifi. If you have an Android phone your calls / texts can obviously show up through it.
I'm using an automation app to set up the UI every time it connects to my car's bluetooth. Mainly for automatically resizing the font to be extra big and also checking for / setting up data tethering connections to my phone or my wife's if I'm not there. Resets those settings when it disconnects as well.
You can alternatively download prefab car launcher programs, which are kind of kitsch, but work just fine. For my use I only ever need split screen for maps+music or videos+PIP maps, so I've just created some shortcuts to keep the flow simple.
Perks over an aftermarket HU:
1) Much much cheaper.
2) If I need to download more movies, music, offline maps, apps, get updates, or customize something for an upcoming trip, I can bring it inside and do what I need to. With the aftermarket HU I had to sit out in the driveway for hours to customize the UI and download more content.
3) Quick stops for gas the tablet stays on. With the car off I can adjust maps route or load up the next movie. After restarting the car, my phone's data tether has maintained connection and the tablet reconnects to car bluetooth instantly. Maps/music/videos pick back up where they left off. Don't have to fumble through network settings or restart Netflix every time the car turns off.
4) Neat to have an extra tablet now. One that's always loaded with music and movies, readily at hand on long camping trips in case we're washed in with rain.
5) Can easily rearrange the orientation. Shift it up to access volume dials or even to have a double screen with OEM too.
6) Mid trip my wife can pick up the tablet and hold it like an actual tablet. Makes searching for upcoming stops / doing really anything on it much easier than finger poking it on the dash.
7) Screen stays cool on 100deg days. The aftermarket HU routinely got hot to touch.
8) It's just so much simpler. The aftermarket HU was fairly complicated to get working, which isn't an issue for me, but then it often got complicated to get it working every day. Required lots of little know-hows when things didn't work. I try to think about things in a scenario if I'm not around anymore, especially pertaining to my wife using it, and this tablet is as simple gets. Big ease that the OEM HU fully works without it, so if she takes the car out around town she can still use her CarPlay. Or bring the tablet, snap it to the magnet, and it'll fire up when the car starts.
Couple of things to be aware of:
1) Screen brightness isn't going to be impressive during summer afternoons. It's hard to beat the sun. There was one afternoon it was especially bright at peak afternoon over a Texas concrete highway and the screen was definitely under-lit. But, I could still see content. 30 min later the sun retracted a bit and it was back to fine.
2) If I'm not driving for a while and temps get over 90 I remove it and bring it in. Prolonged excessive heat may kill the battery. I'm not too worried on that. Most of the time I've been removing it anyways, as it's a perfectly working tablet so that's nice to make use of inside.
3) No back-up camera. I've just been shifting the tablet up to see OEM screen.
4) iPhone users are out of luck for phone/texting support. Android phones sync up easy.
All in all, highly recommend.