I was inspired by
http://rav4world.com/forums/viewtopic.php?t=21687
to start a similar thread for the 2GR-FE engine. I don't know what all of
the parts are, so I just put alphanumeric labels to correspond to an easy-to-modify legend. Below the photos is the legend info.
Let me know of additions or corrections.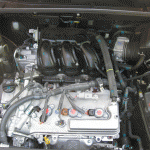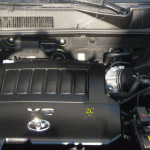 Free Image Hosting by ImageBam.com
Click thumbnails above for less compressed images. Images below are full size, but they are compressed to smaller file size:
A Strut tower
B Freon pressure sensors
C High-side freon fitting and sight glass
D Low-side freon fitting
E Coolant (antifreeze) reservoir
F unused letter on pix
G Rear oil line. Pre 4/08 had infamous rubber section.
H Oil pressure sensor? 1 of ?
I intake manifold actuator solenoid. Controls 'J'.
J Intake air control valve
K Intake manifold (plastic)
L Camshaft Timing Oil Control Valve Bank 2 (2 each bank)
M Engine oil filler cap
N VVT Sensor for intake Side of Bank 2
O Camshaft Timing Oil Control Valve Bank 2 (2 each bank)
P1, P2, P3 Ignition coils for bank 2 cyl 2,4,6 respectively. 3 more on back bank 1.
Q Engine oil dipstick
R unused letter on pix
S VVT Sensor for exhaust side of Bank 2
T Fuel injector (6 total)
U Fuel pump resistor
V Fuel pump resistor connector
W No.1 Ventilation Hose (plugged into the Ventilation Valve PCV) (0060040.pdf)
X B38 Noise Filter on battery side of Ignition coils for bank 2. There is also one on bank 1. The item seems to be a 250 volt 2.2 uF capacitor.
http://www.imagebam.com/image/e740e463339984
shows a closeup.
Y hose
Z Front oil line (NO. 1 OIL PIPE)
1A Transmission dipstick
1B No. 2 radiator supply hose (hot side)
1C Hose to (E Coolant reservoir) and somewhere else.
1D Purge VSV (Vacuum Switching Valve 01200310.pdf)
1E Purge Line Hose from canister 01200210.pdf
1F Vapor Feed Purge Line Hose to air cleaner hose
1G ?
1H Throttle Body
1I Throttle Body Mount
1J ___________ hose
1K ___________ hose
1L Purge vacuum switching valve
1M Brake fluid
1N Mass Airflow Meter
1O Vacuum Switching Valve
1P Vacuum Tank (above air filter housing)
1Q Non-stock positive terminal battery tap
1R Battery, with symbol on indicator eye
1S Battery front where electrolyte level can be seen in right light
1T Fuel rail (under engine cover)
1U VVT Sensor (as is 'N')
1V Head cover bolt #1 of 12 for Bank 2 (008003.pdf)
2A Fuse and relay box. (more fuses in dash)
2B Window washer fluid
2C Engine cover. (V-Bank Cover) Lifts off of 3 posts.
2D ???? firewall boss???
2G ECM Engine control module (brain)
2H ?
2I Aftermarket hood switch
2J Aftermarket siren