Discussion Starter
·
#1
·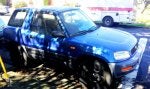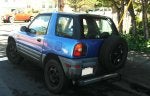 Hey Everybody!
Have you been coveting one of the rare 2 door Ravs? Well today's your day! And it has the highly coveted towing package too! (2wd drive though, sorry all you rock crawlers!
)
(Location: Alameda, California 94501)
I'm selling my daily driver that I've had since 2006. (Automatic transmission.)
It will run forever because it's a Toyota! (If you have one, you know!)
It's perfect for difficult to park areas, because it's super short! It's like an SUV with the whole back half missing, the measurements put it somewhere around the length of a mini cooper, only you get the option of folding the back seats down and fitting bicycles in it (it can fit two!) or furniture, or whatever you need.
You can also take the back seats out and fit lots more in it if you choose.
It has a clean title, passed smog and is registered, the registration will be coming up for renewal at the end of May ($92).
The mileage is only 190 thousand or so, almost all highway miles from commuting.
It's got a tow hitch which is super super rare and hard to find on these little guys. I've had people offer to buy it of me multiple times but I wasn't ready to part with it yet. Now I feel like a dummy for not holding onto their numbers.
Air conditioning is strong and cold, same with the heat, CD player with jack for your phone and radio is installed with removable faceplate because every criminal in the city is eyeballin and you know it.
Tires have a lot of life left, alloy wheels I painted black so she looks tough, and a full-size spare on the back will make you question your sanity for ever having driven around anything with a teeny donut tire as a spare. She's also got phenomenal visibility, and totally raised the bar for being able to see all your blind-spots!
Interior is in good shape, light scuffs here and there but no tears in the dash or doors. Seats are all in great shape except the drivers which started to wear so I put covers on (black pleather, but you can also get a seat from Pick N Pull if you don't like covers but are also bothered by a wear-spot.)
Has a kill switch to keep burglars from getting her, comes with two remote clickers and two keys.
Has little secret compartments in the back to hold tools or what-have-you. Manual windows and doors.
Oil change fairly recently but could probably stand another soon. Has had most major things that tend to break over time fixed at one time or another. (I have a big stack of receipts and papers you can go through.) Had all the tubes and wires done as well as the spark plugs and tune up when I got her in 2004 or 2005... lots of work done since then too. If you are serious I'll take the time to go through all the papers.
Breaks have tons of life left in them, handles super tight, very solid on the road, no shaking or rattling or anything of that nature. Fluids are good, no smoke, etc etc.
She's in good shape, not ****ty, and not flawless either. While she runs super smooth and handles great, her exterior needs some work. The paint is good except the hood is getting some foggy white around the edges, and the very top where clear coat is mostly gone. (This always happens to the blue ones for some reason.) I was going to paint the top panel black like a mini, but didn't get around to it and now I have a Toyota Van (and not enough time to fix up both. There is a dent on the front drivers corner, and along the edge of the door is bent from where someone hit and ran me (it doesn't affect closing, is just cosmetic).
Windshield has 2 cracks from flying pebbles when they were doing construction on the freeway here (far right lower corner, and lower center) that aren't going anywhere and don't affect visibility, but I checked with my insurance and depending on who you have, if you wanted a new windshield it would be somewhere around $80 or $100. Or you could leave it, the cracks are not runners, curved, and are maybe around the width of an orange or smaller.
The real reason you want this little gal is that parking her is a breeeeeeeeeze!!! You can fit into those spots between driveways that are too short for regular cars. You can fit into spots that mini coopers just left and other drivers have to pass them up. You can flip a biotch in the middle of the street to snag spots on the other side 'cause she has an amazing turn radius. I've hung onto this car for years because it solves the parking dilemma that is San Francisco! I hope I don't regret giving her up... I kinda do already a little, but I'm not planning on living here much longer so hopefully I'll be okay without her.
Email if you are seriously interested.
I'll get more details and pictures of the inside asap.
Thanks for considering my awesome little Toyota! (Her name is Tonka.)