Discussion Starter
·
#1
·
HU Replacement - 2010 Limited w/JBL (no Navi) - With Customizations & lots of details
(PART 1 - Was too long for a single post)
Kenwood DDX9903S Head Unit install with Maestro interface; Apple CarPlay (and – untested – Android Auto). Customizations: added USBs outlets, HDMI outlet, head unit display integration with existing OEM backup cam and with added 'backseat cam', OEM microphone replacement; OBD2 connection; new satellite/Sirius/XM radio tuner and OEM antenna tie-in; relocated power outlets (12V & 120V).
I was helped TREMENDOUSLY by the contributors to this forum, so below is my (admittedly lengthy) effort to give back. Divided into sections so others can read/ignore based on specific interest
This is a long post and VERY detailed… which may be overkill for some, but may help others. If it is too long for you, no worries… just don't read it ☺.
Re: Background and Motivations…
Just bought a new 2017 Honda Ridgeline RTL-E with the full OEM audio and nav suite, including Apple CarPlay... and I love it! Since I get to be primary driver for that vehicle, thought it was time to put a little 'audio love' back into our RAV4 which will now be my wife's primary vehicle. It has been MANY years since I tore apart a dash or installed an aftermarket audio system. However, the local shop labor cost plus extra profit margin on each piece of hardware, along with vague references to "we'll just drill a hole in the back of the glove box for the USB connection" and "we just stick the microphone to the steering column", etc., induced me to attempt it myself.
Primary Lessons Learned
: I'm a long time techy guy and use to doing various low/line voltage wiring, but this turned out to be a substantial undertaking for me. In the end I got what I wanted exactly how I wanted it done with customizations the local shop would not have done or would not have done with the fit and finish I wanted or would have charged more than I could afford. BUT, my vehicle was down for most of a week and at various points I felt pretty overwhelmed…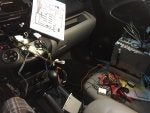 So unless you are as picky about details as I am, consider strongly hiring the pros. Also, the 'few extra dollars for misc.' I thought I might need as the install progressed kept adding up – so have some buffer in your budget. Also, the 'universal' interface kits (at least mine), even the ones that are theoretically 'specific' to your make/model/equipment, come with LOTS of extra connectors, wires, and harnesses that you may not use… and scant instructions to make that and other important points clear.
Re: Goals, Vendors, and Equipment/Parts Used…
Specifics I was after in a new Head Unit: OEM look to the whole thing; modern touchscreen controls; Apple CarPlay; Sirius/XM Radio; Retained use of OEM JBL Amp; Retained use of ALL OEM steering wheel controls; Retained use of OEM backup camera with image displayed on new head unit (continued image display in rearview mirror OK, but not critical); CD player (for old school options
; Retained use of OEM AUX IN port; Attractive fit/finish for at least two new dash/console mounted USB ports for Apple CarPlay connection and charging (no OEM USBs in my 2010); Retained use of OEM combination FM/XM antenna (both to avoid running additional antenna cable through the cabin as well as avoid an additional antenna stuck on outside of car); Retain OEM microphone (and avoid having the look of a 'stick-on' aftermarket microphone).
And I had a few other ideas I wanted to see if I could do…
Most of what I wanted looked to be out of the box functionality per the Kenwood HU specs or provided by the interface devices used for the install. The customization mostly came with trying to make things look good and work the way I wanted once installed in the car.
Vendors
: Used Amazon for a number of bits and pieces, but Crutchfield's sales support, technical support, and 60 day return policy won me over for the more integrated and high-end items. Basically I let Crutchfield sales support tell me EXACTLY what parts to order that would work together for my make/model/equipment. They were right… mostly.
Equipment/Parts Used
:
(Crutchfield sourced items) Kenwood DDX9903S; iDataLink Maestro RR universal interface kit combined with iDataLink HRN-RR-TO1 Installation harnesses; American International Mounting (dash) Kit TOYK994.
(Amazon, etc.) SXV300 SiriusXM tuner; Metra AX-USB-35EXT 3.5mm iPod to USB Extension Cable - 27-Inch – Black (combo 3.5mm AUX in and USB port (pop-in housing that fit the panel switch blank in front center console); 3ft Car Dash Flush Mount USB 2.0 HDMI Male to Female AUX A/V Cable Install Kit (pop-in housing that fit the 12V outlet opening in center console under armrest); AUKEY 4.8A Dual Port USB Car Charger for Apple and Android Devices – Black (low profile plug adapter for front center console 12V outlet); Shark Fin Antenna Adapter: SFA12F female connection (just an adapter cable to connect SXV300 tuner to OEM XM antenna); MicroBypass Parking Brake Override Bypass for Kenwood; Esky EC170-11 View Backup Camera (used as an ADDITIONAL 'keep an eye on grandkids in backseat' camera); OBD2 16Pin OBD2 Splitter Extension Cable Male to Dual Female Y Cable (used to allow full-time connection of my new head unit's OBD2 connection without blocking the OBD2 port used by service technicians). I also purchased a small set of plastic panel removal tools.
Re: Preparation…
Ordered all my major equipment/parts, and ordered additional items as the install progressed and new things came up. Read EVERYTHING I could find on this forum about HU replacements, wiring diagrams, backup camera installs, panel removals, and forum members experiences, tips, and tricks /tricks related to interior work on 4.3 RAV4's, with special attention to threads on HU replacements for 2010 RAVs and those with OEM JBL.
Re: OEM Head Unit and Panel Removal…
Using my panel tools and following instructions from various forum threads (example:
http://www.rav4world.com/forums/98-...s-fog-lights-using-oem-switch.html#post839077
) I began pulling panels starting with the trim on the sides of the OEM HU ('Instrument Cluster Finish Panel Center') and moving on as I gained confidence that I would probably not break anything. Just having a couple of good panel tools made a world of difference, even in just making me feel like I could remove them without damage. With trim panels removed, gained access to the 4 bolts holding in the OEM head unit and removed those. Unlatched the various electrical connectors including the two antenna connections (FM and XM). Popped out the vents above the HU ('Instrument Panel Register Assembly Center') – easy, and provides more light and access to the wiring areas. Same with the climate controls panel below the HU, and I disconnected the wiring connectors but left the SmartKey switch connected and let the panel dangle from the SmarkKey button wires. Pulled the passenger side under dash panel and decided to remove the lower glove box as well (paying attention to the stop cylinder attachment points on the right – for later reconnection before taking it loose) for more working room and since I expected to run a few wires behind that area. Removed the passenger front door scuff plate and kick panel trim to allow access to the OEM video cable.
Re: Backup Camera Video Connection…
I had read various threads about accessing the video feed from the OEM backup camera. A number of options were discussed, but connector locations and connector pin outs – specifically for my year model and equipment (JBL but no navigation) – were a little unclear, so I planned to follow the instructions that seemed the most detailed and clear which was splicing into the video line in the wire bundle under the front passenger door scuff plate:
http://www.rav4world.com/forums/98-...-camera-aftermarket-head-unit.html#post909251
The instructions in the referenced thread indicate that the video line is the thickest black line in the wire bundle, but my wiring had two thicker black wires both with the same diameter, so I wasn't sure which might be the video line. I used a razor knife to gently slice (very) tiny parts of the wiring sheath off each of the two wires. On the first wire I tired, once I cut through the sheath and the foil shielding I could see (barely) that at least one of the wires inside was NOT red, white, black, or bare metal. Since those were the colors I was instructed to look for, I patched/taped that wire back up, moved a couple inches down the bundle, and did the same to the other larger black wire, where I found the wire colors I expected. Unlike the pictures in the referenced thread where it appears the wires were cut for the splice, I chose to use the razor knife and just remove about ¾" of sheathing from each of the two target wires (white and red) without cutting them. I stripped each so the stripped area for one was about an inch down the wire from the stripped area for the other. I then followed the referenced post directions: used a video connection wire I had laying around (after making sure it was long enough to route to the new HU), cut the RCA connector off one end of the new video cable, then spliced the two wire ends into the OEM wires and soldered both connections (per the instructions: OEM white wire to center wire of my new video cable; OEM red wire to outer shield of my new video cable). By staggering the two stripped/soldered areas down the wire it kept them from coming in contact with each other, although I also taped and wrapped each splice, and then taped the whole spliced area on the cable. I ran my new video cable along the scuff plate wire bundle, up behind the kick plate, and across above the glove box area to the new HU, securing with zip ties along the way. Since I spliced the wires, the OEM backup camera image still displays on my rearview mirror (which I mostly ignore now), as well as in the new, larger HU display.
Re: iDataLink/Maestro Interface connections…
The iDataLink/Maestro interface documentation is somewhat vague (hence I guess the recommendation of being for professionals who know what they are doing) and there are no SPECIFIC instructions – just drawings. But hey, it works for IKEA ☺. I guess the issue is the product is designed to work with many makes/models/years and the drawings of connectors and such are generic… they don't necessarily match YOUR connectors exactly – only somewhat. The iDatalink T01 (theoretically the Toyota 2010 RAV4 w/JBL specific wiring kit) and Maestro combinations specified by Crutchfield for me required a pretty good bit of (the expertise and experience of a professional stereo installer, or) guesswork. In the end I just plugged every connector that matched between the Maestro control interface box, the T01 wiring harnesses, and the OEM harnesses (which was a weird approach, to me). That left several OEM connectors and several T01 connectors with no place to go; several 'extra' harnesses that came with the T01; and a BUNCH of yet to be connected wires from both the T01 harnesses and my new HU (although all came tagged, both on the T01 harness and the Kenwood connector). So consider that situation as 'normal' if that is where you find yourself with similar equipment. Most confusing for me is that it turned out I had the downloaded the wrong iDatalink/Maestro wiring diagram. Be warned… the WRONG diagram showed the CORRECT make, model, year AND trim level. But there were 2 versions of the diagram, and some major differences in wiring for hook up to head units that (a) accept direct data connection to the Maestro (like my Kenwood) and (b) those that do not (which was the instructions from which I was first working). Crutchfield tech support helped unravel the mystery. They also verified that one of my OEM connector would be left unconnected - by design; and the T01 wiring package (theoretically SPECIFIC to my 2010 RAV4 Limited w/JBL, actually included a BUNCH of connectors, extra wiring harnesses and misc. wiring adapters that were NOT used for my specific install.
As I said in another post, if you have only talked/chatted with Crutchfield's sales people (that is who you get via online chat), try instead calling their tech support line... for me they were pretty helpful. And remember you do have 60 days to return to Crutchfield, so they have a vested interest in helping you make it work.
I've converted to all Apple gear at home. The Maestro interface box REQUIRES a Windows computer (and Microsoft Internet Explorer browser and Internet connection) to flash the firmware on the box. The instructions are clear enough for that and after borrowing a Windows laptop (AND being granted Administrative Rights on the laptop!) I had no problem setting up the Maestro as required.
The steering wheel controls appear to be handled via connections from the Maestro box to the OEM connectors and just a couple of 'data' wires/connectors direct from the Maestro interface box to my new HU - one of which was a standard 3.5mm audio-looking connector - and one which was a tiny maybe 4-5 pin connector, again direct from the Maestro box to the HU. I just plugged in what seemed to fit based vaguely on the diagrams.
As far as RCAs on the interface kit, MY kit had total of 5. Two of them (L+/L- and R+/R-) per Maestro instructions connected to "low level outputs" of my HU... (and translated for me per Crutchfield, "Connect them to L & R FRONT outputs on the HU, and the retained JBL amp…" - from what I've heard, mounted behind the right rear quarter panels somewhere – "…will handle distributing that signal to all the speakers").
There was 1 (yellow) RCA (bundled along with 4-5 wires) labeled for the 'Backup Camera' - which the Maestro instructions (and Crutchfield) said was up to me to figure out how/where to connect. Luckily, in the end I used the RCA but not the additional wires and presumably any needed signals (reverse, etc.) came through the OEM and Maestro connectors/wires to the HU (I say 'presumably', because it just worked).
That left 2 RCAs, which turned out to be the Maestro's way to retain my OEM AUX IN option. See below re: AUX IN for details.
Re: AUX IN…
The Maestro interface unit was touted as 'retaining the OEM AUX IN' capability. The Maestro interface however has two RCA jacks tagged as AUX IN… whereas my new HU instead of AUX IN RCA jack(s) has an AV IN 3.5mm jack (since it can also accept VIDEO signal in addition to the standard AUX IN audio signal). So to keep the OEM AUX IN capability, I bought a Radio Shack adapter to convert from the two Maestro RCAs down to the 3.5mm connector the HU had. That keeps the OEM audio signal part (handled apparently via the OEM connectors to the Maestro) and ignores the video signal part of the AV IN my HU was asking for. That kept the OEM AUX IN jack working for audio (and since my new HU has other options for inbound video, I thought that was good enough – others may feel differently). In fact, because I had added an EXTRA 3.5mm dash AUX IN jack (came as part of the USB dash-mount plug I installed – see 'Re: USB Ports', below for details), I also plugged in an additional Radio Shack splitter to this AUX IN tangle behind the dash so that the additional AUX IN jack I added would also be functional.
Re: USB Ports…
My new Kenwood head unit provided two USB ports via a rear connector and proprietary wiring harness with two female USB outlets attached at the end of an approx. 2' cable. Both USBs provide charging capability. HOWEVER… NOTE: If you are considering this Kenwood model, be aware that ONE of the two USBs is dedicated for Apple CarPlay AND/OR iPod AND/OR Android Auto connection. Only ONE. So if you have an iPhone AND an iPod/iOS/Android device you want to connect via USB, you will have to SWAP out the connections between the two during use – you can not use them simultaneously.
The second USB port on the HU can be used for a USB flash drive (loaded with music, pictures, video, etc.), and I was able to get that to work (artist name, song info, etc. shows on the display). Note however the caveat (see 'Initially…", at the bottom of this section).
Being able to use CarPlay on one USB connection but then NOT being able to dedicate the second USB port to an iPod was a big disappointment to me, especially since I ran cables and customized ports in the center console (front and under the armrest) to support this use… then was unable to use it the way I intended (thinking I would leave an iPod loaded up with music in the console box under the armrest, and plugged into a USB I installed there.
I originally was looking for a dual USB (data) outlet that would fit in the one blank switch cover I had in the front center console, to which I planned to connect BOTH of my new HU USB ports. But I was unable to find one (although I hear they ARE out there!). Most of the dual ones provide charging only, or at most 1 charging outlet and one data outlet, so be aware when ordering. I finally settled on the only outlet I could find that would (a) pop into the OEM switch cover hole without modification, and (b) had at least 1 USB (data) port. That one also had a 3.5mm audio jack molded into the switch plate cover, so I decided to use that audio jack in as a secondary (not really needed) AUX IN jack (see 'Re: AUX IN', above).
INITIALLY, I connected the SECOND available USB port from the HU proprietary wiring harness to a combo HDMI/USB (data) pop-in outlet which I used to replace the OEM 12V outlet under the console armrest. See 'Re: HDMI Port', below for more information, and See 'Re: Power Outlet (12V and 120V) changes', below for other details.
I say 'initially' above, because after completing my install, it turned out that there was an issue with that second USB connection (see "Cautions Specifically Re: Kenwood DDX9903S' at the end of this post for more information regarding this USB issue) apparently due to the USB extension cable distance. So as of this point, that under armrest USB outlet is not functional (the HDMI port molded into the cover with it works fine). So for now I've run the HU's proprietary cable for the second USB into the lower glove box (just fed it into the top from behind and left it dangling in the glove box – no holes drilled. When I connect a USB flash drive to it in that location, it works as it should.
(SEE PART 2 for the rest of this post...)