1997 RAV4.1 3-door 4WD Automatic Transmission, 235/70 R16 A/T Tires
Discussion Starter
·
#1
·
Hey folks! Just started modifying my Rav 4 for car camping and light off-roading. Im very glad I found this treasury of all things RAV4! Anyway, Im contemplating on my money-saving options for lifting my RAV as I live in the Philippines and shipping the
OME stuff from rocky-road outfitters
would be very costly. Here in my country we only have those metal fabricated spacers as lift kits (similar to these:
Amazon.com: Tema4x4 Complete Lift Kit 40mm for Toyota RAV4 1st gen : Automotive
) and no one has any OME kits for our old rav4 here. I honestly prefer the OME lift kit more as Ive heard these Tema 4x4 type lifts/spacers can cause the rear shocks to bottom out on pot holes/speed bumps.
My question basically is do you guys think I need to purchase the full OME lift kit (Front and rear springs, rear shocks, assembled front struts ) or can I get away with just purchasing the OME front and rear springs to save on cost?
Im no mechanic and will just have someone install them for me so Im worried that my current rear shocks and front struts might not be compatible or would cause complications with the OME springs. Described and pictured below are my current struts and rear shocks:
Rear shocks
- The rear shocks are no longer stock and I believe they're these
KYB Gas-a-Just Shock Absorbers for Toyota RAV4 2.0 ACA21, ZCA26 01-06, ACA20/21 00-04, SXA10 96-01, 3S SXA10G, 11G, 15G, 18G 94-98, Rear Right/Left (553195, 2pcs) PN#KYB35-SA
. My dad said he had these installed around 2 years ago, so still fairly new.
Front struts
- They are pictured below and I unfortunately have no idea if its still stock or replaced already. But the ride quality on them now is still good so Im assuming that they were also replaced at the same time as the rear shocks.
Im not sure if the OME rear shocks have different specifications with my KYB rear shocks. If yes, then I guess it might be better to order OME rear shocks to go with the OME springs as well? For my front struts I think my only concern is if it can still be safely disassembled without breaking in order to install the OME spring (Im assuming that it has to be disassembled?).
Please let me know your thoughts on this and I will greatly appreciate your inputs!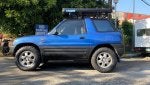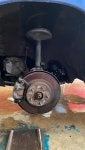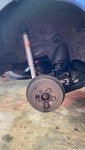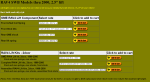 My other modifications so far (Might be able to help someone down the road):
235/70 R16 BFG KO2 All terrain tires
- There was some rubbing on the rear of the front wheel wells as described in your tire charts so we just used a sledgehammer to pound on the protruding area. My Rav4 is an automatic transmission so whenever I turn full lock to the right it will slightly rub on the automatic transmission, but that's fine as I rarely turn full lock to the right. Other than that there's no more rubbing even with a passenger and full camping gear on board which is great!
ARB Differential Breather
- for the small river crossings
Roof Rack and 1.4 x 2 m Awning
- a 2 m wide awning would cause overhang so the best width would be a 1.6 m or 1.5 m awning but alas dont have those sizes here. Tip: A great way to find good accessory sizes for your 3-door rav4 is to check the ones used by those Suzuki Jimnys.
That's all for now! Thanks!