Discussion Starter
·
#1
·
While I'm waiting for my expensive 2022 R4Prime overhead console (OC) part with back-lit buttons (Plan A), I wanted to share my cheap plan B solution.
I had given up trying to get light behind the OC buttons, because then what? Cut/drill a hole in the button surface? That means external light source, mounted to illuminate OC buttons, but not interfere in driver's vision. The solution was a laser pointer parking assist device that I had my eye on for a while. Laser light is easier to put on the OC buttons, than LED/Incandescent (focused?) light. I ordered some items for my R4Prime on AliExpress where I can find such good prices that I don't care when/if they arrive. The laser pointer was battery powered (AC adaptor for garage install), had motion sensor and easy 'install' with double stick tape, opposite rear air vents. It is a lot of fun to watch family and friends motion-trigger the red-dots and try to trace them to their source, or dive for cover yelling SNIPER (in R4Prime and around house). When my dogs readjust the aim, I get to have fun determining the 3-D pool shot (reflections off glass) that put a red dot on my gas pedal (or other weird spot). I was super happy with the motion detection triggering on hand movement towards the buttons. I'm finally able to reach up, see (two) buttons that I can easily get a finger on, and hopefully fumble to non-lit buttons.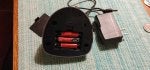 Click to enlarge.
Here is a good representation of how it looks. In total dark, pics just show 2 red dots that you fingers can find.
Split rear seat is folded down for the dogs, and they will brush up agains laser pointer located opposite the rear vents. Easy enough to put back and realign.
The Good:
It is non-destructive and cheap.
Very easy install behind driver so you don't see laser source.
Motion detection is very sensitive and triggers on hand motion reaching for buttons.
Red dots are not distracting and go off if there is no motion to trigger it.
The Bad;
It's prone to jostling by rear passengers, requiring realignment.
I suspect people will make fun of it. I always suspect character flaws or trauma in authors of negative comments. See what I did there
My finger tip lights up when it is on the button. That might freak somebody out, especially if it is their finger.
Enjoy.