Long time lurker first time poster.
With much inspiration from these forums, I took the A out of Rav4!
Just returned from an 11 000 km (6800 mile) trip from Gatineau - Ottawa to Vancouver Island and back. We slept 2 on the roof and 2 in the back for most nights of 24 days - 14 days of driving in our 2010 Rav4 V6!
Roof Top Tent and Plywood bed in the rear. Many thanks to this post
"http://www.rav4world.com/forums/98-4-3-interior/77783-has-anyone-built-car-bed-inside-their-rav4-camping.html
. Used it as inspiration and added my own touches. The center piece of the interior bed was anchored to the truck, (at this point I call it a truck) with large eye-bolts with a space grinded out to the third row seat anchors. Three 2 foot by 4 foot 3 quarter plywood boards, one across the trunk space and two removable across the rear seats when setting up to sleep.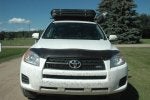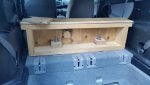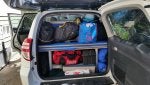 View attachment 80106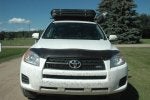 Better than a tent on the ground any day.
Also added a FoxWing Awning with walls to keep out the squeeters..
Used fiber window screen, rare earth magnets and Tuff Tape (softer than Duct tape) to make window screens to allow the lower sleepers some air.
My brothers thought I was crazy, but this rig was way more fun to drive than anything pulling a trailer. Could not have made the time on the highway we did with a trailer.