Discussion Starter
•
#1
•
So we got the idea from others here to build a bed in the back of our Rav4 for camping/road trips. Most of them came from the 4.3 generation with much more head room. We had a few requirements we wanted to meet:
1. quick/easy to set up and take down (tired of setting up the tent and then bringing it home and setting up to dry etc)
2. able to fold the backseats up quickly if we need the extra seating and able to fit the bed in the cargo area)
3. be able to comfortably drive the car while it is completely set up
4. have some storage under the bed
5. have the ability to remove the back seats and still fit the bed for longer road trips
All we used were 2x4s and some joist hangers. Took us an evening to build and assemble.
Here is a picture progression of what we came up with: (pictures are numbered, if you have questions/want more info, let me know)
1. Back portion can still be set up with the backseats folded up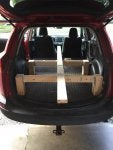 2. We added supports to all sides and another one running up the middle.
3. Used 1x3 for the slats
4.Found some cheap foam tiles on Amazon for a base
5. 2 inch memory foam mattress
6. Ended up more or less being a full sized bed in the back!
7. Cargo area folded up to accommodate coolers and other supplies
8. All packed in the cargo area with rear seats folded up (haven't tried with all the bedding...)
We made mosquito netting for the rear windows and sunroof that are magnetic to the outside and will be making shades/blinds for the inside.
Currently in the process of planning to wire up a separate marine battery to run fans and 12V for overnight without draining the car battery (any suggestions/recommendations from anyone who has done this is greatly appreciated!). Planning to wire this in to the other USB and 12V outlets I added to the backseat. Hoping to eventually throw in a solar charger/trickle charger.
After the first weekend, we thought it was our best nights sleep while camping in a long time! Have another trip planned in September where we will be taking kayaks with on top of the car. Can't wait to try that out!