WTB: Differential mount bracket 4.1 or 4.2
Hello all
I'm in the midst of collecting parts for a rather crazy build. The basics are... 95 ford escort, mazda 323 GTR engine, ST205 transmission, 2002 Rav4 driveshaft, rear end, rear axles. I'd be happy to share more info if anyone is interested. I'm already halfway there, as the car is currently running FWD with a v6 camry gearbox (mostly the same as the ST205, just no rear transfer).
Anyway, what I'm looking for:
1. This thing... front differential bracket: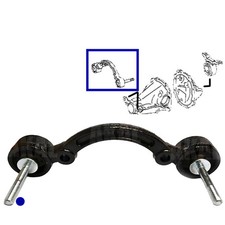 I'd prefer a used/junk one as i intend to press the bushings out and install solid polyurethane replacements. Seems like a waste to buy a brand new one. As far as i can tell this thing should be the same on the 4.1 and 4.2.
2. Also looking for the short side rear CV axle from a 4.2. The track width on my car is going to necessitate the use of two short axles. I'm not sure which side is which normally as I've never been under a rav4... but the pair i picked up is about 2" longer on one side.
Any help would be greatly appreciated!